Unchained Shield-X
---
Discover a new world where you are in
control of your data and privacy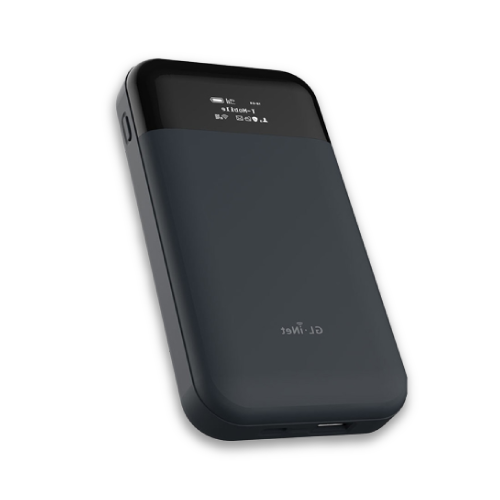 Router: GL.iNet GL-E750 (Portable 4G LTE Router)
300Mbps (2.4GHz), 433Mbps (5GHz)
QCA9531, @650MHz, DDR2 128MB
IEEE 802.11a/b/g/n/ac
MicroSD slot (up to 512GB)
Built-in Tor Service
Portable (285g)
7000mAh (8 Hours) + USB-C Powered
Built-in Tor Service
Hardware Switch (VPN or Tor on/off)
Up to 20 wireless devices simultaneously
Brand New Router
Starting at $499 USD
We provide our service through applications only so that we can make sure our clients receive exactly what they need.
12 months VPN service included
Ensure your phone(s) don't have a connection (Hardware Switch)
Encrypt all your online activities
Share the hotspot with others without using your phone
Securely use public WiFi
Bypass censorship and blocked content
---
Opt-out of Big Tech Surveillance in 3 Easy Steps
---
We are not here just to ride the hype, we have been around for more than 3 years and have been teaching people about privacy for over 10 years.
We have successfully assisted clients all over the world (including USA, Canada, Germany, Spain, Belgium, Norway, Australia, Mexico, Thailand, Cambodia, Colombia, Paraguay, and many more…).
Choose your Device and Apply

The application form allows us to review your needs and determine the best way to assist you with the migration process.

We aim to get back to you within 48 hours.

Confirmation

Once your details have been reviewed one of our highly experienced team members will reach out to you via the contact method provided in your application form (Email, Signal, Telegram, etc).

Once you are ready we will send you a payment request to finalize your order.

Alternatively, we can answer any questions or address any concerns you may have or organize a call to chat about your specific needs.

Shipping

Once your order has been finalized and shipped, we will send you a tracking number.
The Benefits of Hardware VPN Routers
---
Backed by OpenWRT. These Hardware VPN Routers are superior to software VPNs for the following reasons:
No software installations are required on end-user devices: This bypasses potential issues of compatibility and the requirement for regular updates.
Minimal setup: Hardware VPNs don't exist on devices, but can simply be connected to them, which alleviates the burden of device maintenance and updates.
Firewalls: One key distinction of a hardware VPN compared to a software VPN is that end users don't touch the networks to which they are connecting. Hardware VPNs can act as firewalls, achieving optimal isolation and security.
Obfuscation = smaller attack surface: Hardware VPNs minimize risk by reducing entry points for cybercriminals, and completely obfuscate your device from the networks it connects to.
Works on most devices, even legacy ones: Especially in the acceleration to remote work, many businesses have a variety of devices and equipment, available to virtual employees. An enormous benefit of hardware VPNs is that they can be used to outfit almost any IP-enabled device and provide a secure connection.
Use one VPN connection yet connect many devices. Bypass the limitation of 5 devices per account.
---
Reviews
---
Join thousands of digital ninjas from all over the world who have opted out of big tech data collection and taken control of their privacy.
First of all, let's talk Customer Service.I am nearly 70 y/o and rate UI's CS as one of the finest experiences in my entire life. Patient answers, clear communication, and superb documentation made selecting a phone and getting it seamlessly integrated with my mobile provider sooo much easier than I anticipated. The phone itself, a Pixel 6?

I am still on the learning curve to optimize my use of it. (Not surprising, I was using a Blackberry for years). But it feels good in my hand and the everyday applications serve me well. Good battery life and the digital keypad has been rather easy to get used to after my Blackberry.

Dr BOC
Blackberry to Pixel
As a relative newcomer to the privacy tech space last year, UI were patient, thorough and professional in answering my questions and outlining technicalities. They kept me up to date throughout the order process and have continued to provide clear, friendly support post-sale.

My Lenovo laptop works brilliantly, and I'll never go back to mainstream tech. Highly recommended!

Neil
Windows to Linux Mint (Laptop)
Unchained Innovations is a highly knowledgeable team of professionals. Their phones and laptops come fully setup and ready to go with all the privacy features one could ask for. Not only that, all their products are brand new. Their customer support is superb and are able to answer all questions to assist in the purchase and after sales service. I know this as i am a totally satisfied customer and supporter. Highly recommended.

Wake Up and Unplug
Windows to Linux Mint (Laptop)
I got one of their Pixel 6 pro phones and am super happy with it. The phone comes fully setup with all the privacy installed. As long as you stick with privacy apps and FOSS, your good to go. I also really like their case and screen protectors. Great Stuff!