1 on 1 Privacy Coaching
---
Discover a new world where you are in
control of your data and privacy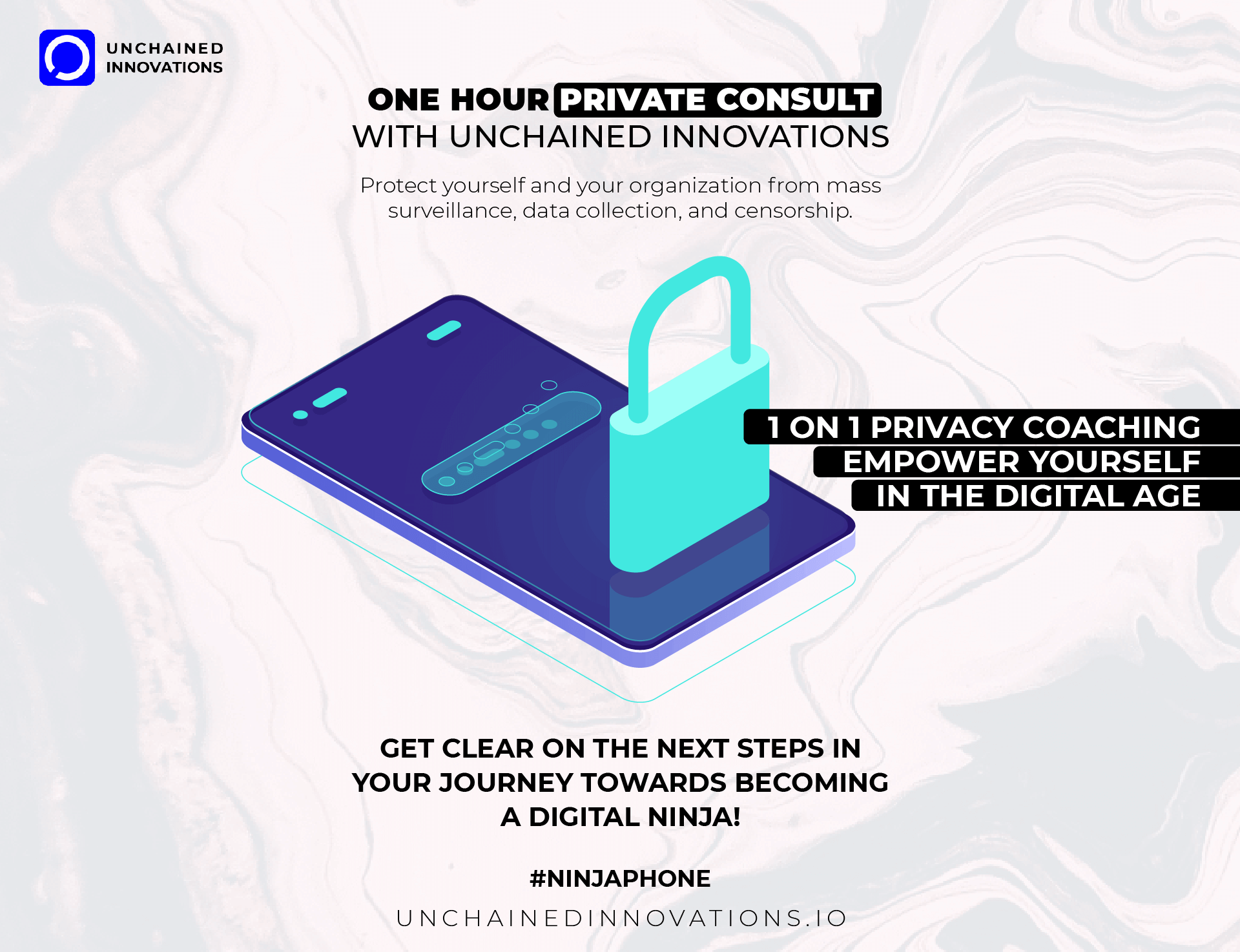 Ready to take control of your digital life and protect your privacy?
Are you concerned about how big tech companies are using your personal information?
Do you want to take control of your digital life and protect your privacy?
Are you feeling uncertain and vulnerable about your digital privacy?
Would you like to feel more informed and empowered to take control of your digital life?
Do you want to protect your communication and community or organization?
Or do you just have some questions you would like to ask us?
Our one-on-one privacy consultation is the perfect way to learn how you can take control of your digital life and protect your privacy.
Personalized advice tailored to your needs and circumstances.
Professional guidance backed by over a decade of experience.
Increase your awareness, we'll help you understand the risks and challenges of online privacy so you can make informed decisions about your digital life.
Better protection, by following our recommendations, you'll be better equipped to protect your personal data from big tech companies and data thieves.
---
How it works?
We are so committed to giving and sharing knowledge that if you don't get the value you paid for then we will give you a full refund!
---
Step 1: Once your application has been submitted we will review it and if we can support your requirements, we will send you a payment request followed by a booking link where you can choose a time and date that is convenient for you (subject to availability).
Step 2: We connect via Signal or Jitsi for a productive session where we will answer all your specific questions and provide feedback and suggestions based on your application form. Think of this as a workshop session - make sure you are prepared to get the most out of this session.
During each session we may cover these situations:
Social media privacy settings: Learn how to control what information is shared on your social media profiles and keep your online activity private. Example, Telegram settings and using an anonymous number for your social media accounts.
Email and messaging privacy: Understand how your emails and messages are stored and transmitted, and learn how to keep your communication secure.
Big tech privacy concerns: Discuss the ways that big tech companies collect and use your personal information, and explore strategies for minimizing your exposure.
Privacy apps and tools: Discover a range of privacy-focused apps and tools that can help you protect your personal data online, from VPNs to privacy browsers to password managers. Learn how to select and use these tools effectively to maximize your online privacy.
---
Apply below via our quick and easy application form. Our team will review your application and be in touch to schedule your personalized consultation.
Don't wait - take the first step towards a safer, more secure digital future today.
Apply Now
*Subject to availability
---